Is that a bird? Is that a plane? No! It's a UFO!!

"Is it or isn't it? Look closely at these pictures and video to make up your own mind. But Denna Smith, a writer in the U.S., says she knows what she saw. She believes that the circle she caught on camera floating in the sky above the Kings Dominion theme park in Virginia is a space ship."
Apparently, Ms Smith, the one who took the video says that she believes what she saw and also, there is some ring of evidence that this is true.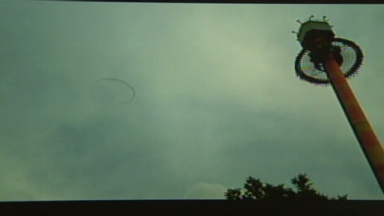 Aliens watch out, we are looking
"Her video is similar to two other recorded incidents, he said - one from Florida in 1999, and one from Fort Belvoir, also in Virginia, in the 1950s."